Central Panel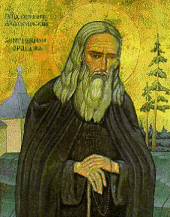 The central panel of this icon is an icon based on an original portrait engraving of St. Herman, made while he was alive. He is wearing a deerskin shirt and the 16 lb. cross and chain now found on Kodiak Island. His outer dress is a monastic mantiya, or cassock. He is leaning on a staff and holding his hand a string of monastic prayer beads, called chotki in Russian. He is in prayer, standing in front of the present chapel on Spruce Island, built over the cave in which he was first buried, a cave he himself dug the first fall he was in Alaska. The beautiful spruces which cover the island form a background of this scene.
Entrance into Monastic Life
The young Herman, whose name prior to entering monastic life is unknown, receives the blessing of his Spiritual Father to enter monastic life.

Miraculous Healing of Abscess
After spending nights in fervent prayer for healing of an abscess on his throat, the Monk Herman falls asleep in exhaustion, and dreams of the Virgin Mary touching his throat and healing the abscess. When he awakens, the abscess is completely healed and gone, except for a small scar.
Writing to Brethren at Valaam
On Spruce Island, Father Herman writes to the brethren at Valaam in Russia about his missionary labors.
Elder Nazary's Blessing on Departure for Alaska
The Elder Nazary, abbot at Valaam, blesses the Monk Herman to begin his missionary journey and work in Alaska. The mission left Russia in October of 1793.
Arrival on Kodiak Island
The Valaam mission to Alaska, led by the Archimandrite Joseph, arrives on Kodiak Island. Herman, in his first prayer on American soil, thanks God for a safe journey. The mission arrived on September 24, 1794.

Carrying a Huge Log
In winter, the barefooted Monk Herman carries a log so heavy that four men would normally be required to carry it, without assistance, as his disciple Nazary looks on in astonishment.

The Cave/Tomb
Father Herman digs a cave, in which he lives for a time. Decades later, after his death, it becomes his tomb.

Talking with an Angel
Father Herman converses with an angel, who protects him from the demons, which appear as predatory animals.

Martyrdom of Hieromonk Juvenaly
The Hieromonk Juvenaly is killed by the inhabitants of the Lake Iliamna region in Alaska on September 29, 1796, becoming the first known Orthodox Christian martyr in America.

Sermon of the Cross
Father Herman, evangelical preacher and teacher, preaches the Sermon of the Cross to native Aleuts, Alaska Indians, and Eskimos.
Stopping the Tidal Wave
Father Herman places an Icon of the Theotokos on the seashore, and prophecies that a tidal wave which threatens to inundate the island will not pass the icon.



Stopping a Forest Fire
Father Herman digs a ditch to serve as a firebreak, causing a forest fire to burn itself out and die.

The Smallpox Epidemic
Father Herman nurses Aleuts stricken by a terrible smallpox epidemic which swept the southeastern Alaskan islands.

Stilling a Storm at Sea
When a ship he was travelling in is caught in a storm, Bishop Innokenty Veniaminoff prays for the intercession of Father Herman. The wind shifts and his ship lands safely, in 1842.

Healing of Crippled Girl
A crippled Aleut girl arrives on Spruce Island on crutches and prays before Father Herman's reliquary. She leaves the crutches at the reliquary and walks unaided to Herman's Spring.
Repose of Father Herman
The Elder Herman dies at peace on December 2, 1837, and is buried.

Glorification of Father Herman
Father Herman's relics are transferred from Spruce Island to Kodiak, in preparation for his glorification, and are then carried in procession on the day of his glorification on August 9, 1970.
Fr. Herman's Relics arrive at St. Tikhon's Monastery
A reliquary containing a portion of St. Herman's relics is carried in procession through the gates of St. Tikhon's Monastery.
---
The Icon Wall | Orthodox Resources | Send me Email
©1970 by the Orthodox Church in America (OCA). All rights reserved. Please contact the OCA for permission to mirror or use this document for anything but private, noncommercial purposes.